I finally bit the big 38 dollar bullet and checked out the Amazon Basics Camera Bag.  I was starting to out grow my Slingshot 200 and was in the market for a new camera bag.  I started scouring Amazon for a bag that would be both large enough for all of my gear yet small enough to fit under an airline seat.  I was skeptical that a 38 dollar bag would be good enough for all of my gear.  After reading the plethora of reviews on Amazon, I was convinced.  I took all of the gear out of my 3 bags and started stuffing the Amazon bag, it fit everything I own for my flash and my camera except for that monstrous Gary Fong Lightsphere!  If you are curious as to what everything is, go to My Camera Gear and take a gander at everything there, it is all in the bag!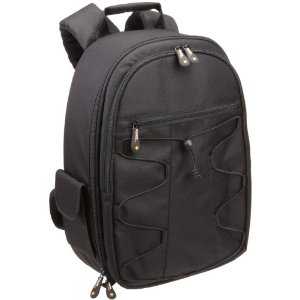 Pros:
It fits everything I own and then some.  My wife always needs snacks while we are on the go, it even fits those.
It is only 38 dollars!
There is more space in here than you can fathom, really smart space.  Do not expect to buy this bag and waste any space.
Comes with tie downs for a tripod.  I had to fabricate my own for the slingshot.
Very comfortable back padding and straps, even has a hip belt for extra support when you overload it.
Cons:
I beat my head against the wall because I could have bought 2 of these for what I paid for my one Slingshot 200.
It has Amazon zipper tags. While many may find that free advertising for Amazon, I find it cool as a cucumber!  I buy EVERYTHING camera related from Amazon anyway.
Bottom Line:
If you are in the market for a new camera bag, this is an end all for camera bags, especially if you are in the market for a compact bag.