A Camera Bag to End All Searches
A great camera bag is just as essential as a great tripod, ball head, or filter.  I have often disregarded the importance of a good camera bag, it just seems like one of those things that you don't want to have to spend the money on to get a good one.  So I didn't, for years I purchased several bags that I bought for $50 thinking I was getting the most bag for the buck.
Of course, I was going for the monster bags that looked like they could hold everything I owned in them!  That seemed like a great idea at the time.  However, I learned pretty quickly that the budget bags, which were designed to hold a lot ,were not constructed to do the same!  After one or two outings with 20-30 pounds in them, the shoulder straps would begin to tear or the zippers would break in my fingers.  This happened with SEVERAL bags.  So here I was sitting with 3 bags at ~$50 a piece that could no longer function in their intended purpose.
With a hefty price tag the Domke Ruggedware Military bag is sure to scare you off, $459.99 (Retail, I have seen it as much as 30% cheaper on Amazon). However, before you go running from sticker shock there are some things to consider with this bag over many others.
Like most things, we buy solutions, not products.  In this case the solution to the camera bag dilemma is a bag that is easy to carry, well-constructed, and most importantly, will protect our investment in our camera.  The Ruggedware Military bag fulfills these requirements and then some.
Construction
Being a former Master Parachute Rigger, I know a thing or two about seams, stitch patterns, thread tensile strength, and fabric & hardware characteristics.  When I look at any bag, from my wife's purses to camera bags I always pay close attention to the construction.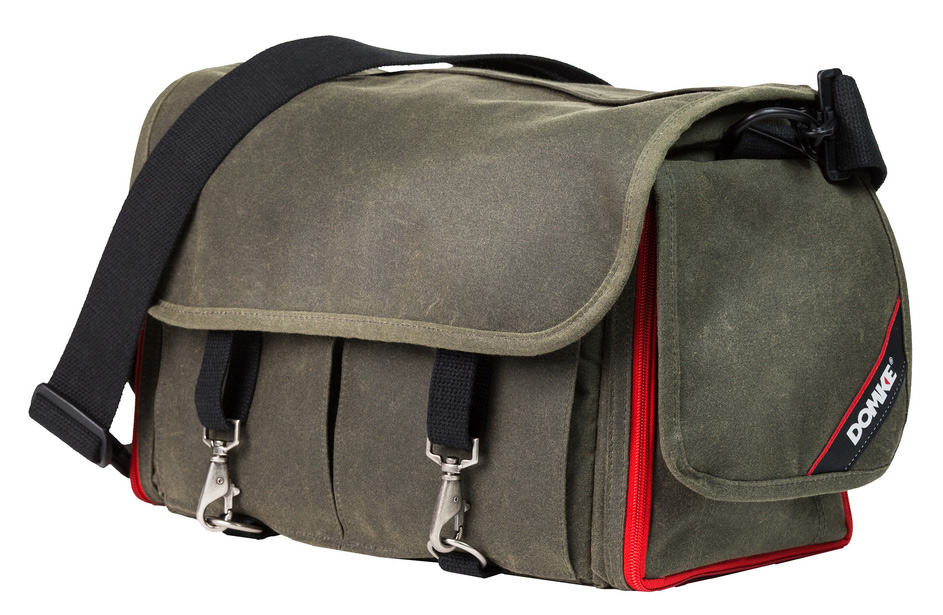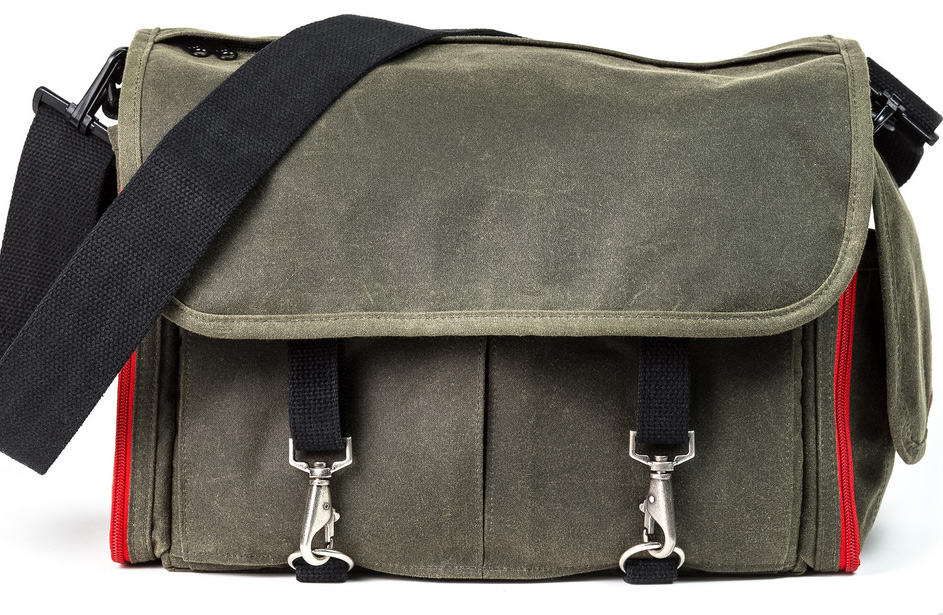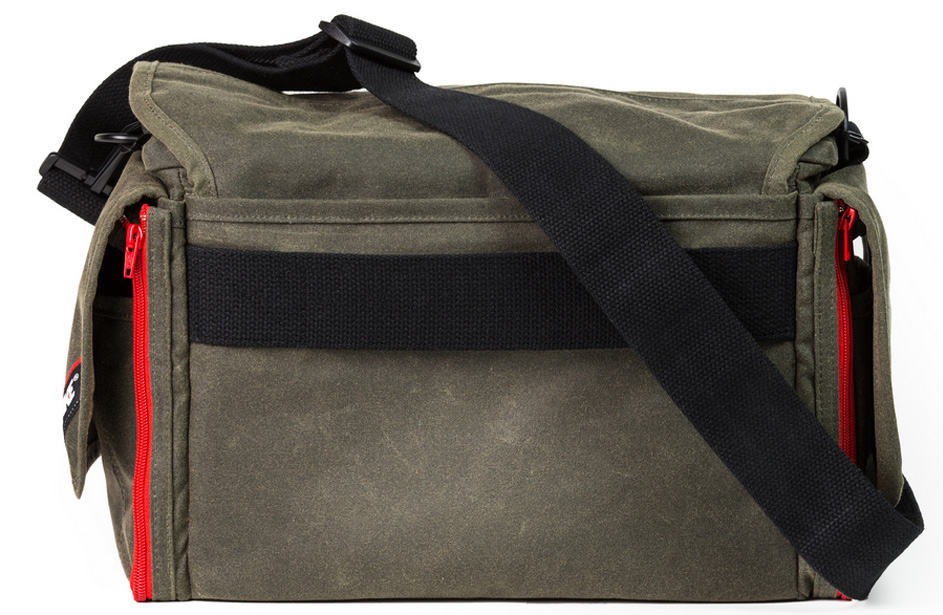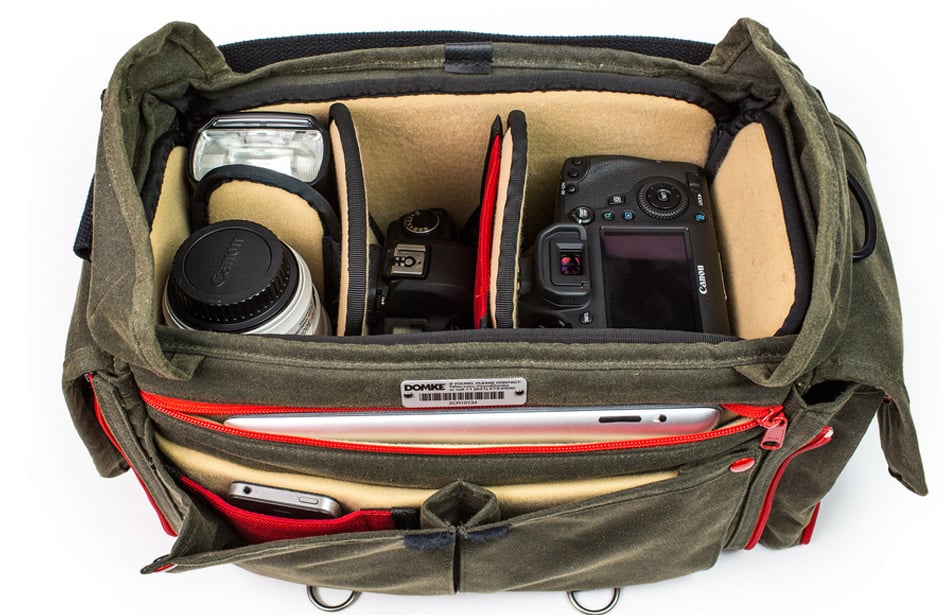 Screenshots from Tiffen.com for Product Review purposes only.
The Domke bag is constructed with superb craftsmanship.  They chose an extremely durable canvas material with YKK Zippers, metal hardware, and a rubber impregnated shoulder strap.  These materials are not cheap by any stretch of the imagination when it comes to wholesale cost, even for mass production.
I have seen firsthand how well the canvas material holds up over time.  Not in this bag of course, but working with many fabrics in the military.  We would often use this same canvas material to make tool pouches, FOD bags, and protective covers.  A personal tool bag constructed from this canvas material would have minimal signs of wear and tear after 10+ years of use.
Unlike many Zippers that pinch, bind, and buckle with prolonged use, the zippers on the Domke bag are designed to last.   While I am not a huge fan of the red zipper on the "military bag", I do enjoy its smooth operation and heavy grade material.  The zippers are used in many places on the bag.
One genius manufacturing idea with this bag is zipper gusset pockets.  With the Zippers attached and zipped these pockets are rather small with a very low profile.  However, when you unzip them they will unfold the pockets, doubling their capacity.  There is also a zipper on the top of the bag so you can keep the top flap closed but access your camera and gear very easily!
The shoulder strap is constructed of high grade webbing that is impregnated with rubber threads, another marvel in the construction of the bag.  The rubber impregnated strap will keep your bag from slipping out of adjustment when weighted down.  It also helps to keep it in place on your shoulder when walking.
I was also thoroughly impressed with the interior padding.  Some bags leave the seed of doubt in your mind, "Is my gear actually being protected?" by the questionable padding that surrounds it.  The Domke bags use thick durable padding with an easy to adjust hook and loop system.  It is also unique in that the bag itself functions as a shell for the padding. The entire padding system can be removed and replaced.
Here are some of the features outlined on the Tiffen site:
RuggedWear military color with black color webbing
Top access with double zipper
Rear slide pocket
Expandable zippered side pocket
Key-ring strap
Secure luggage strap
Custom antique steel hardware
Numbered identity plate
Side rain hoods
Padded zippered tablet sleeve fits up to 11×8″
"Quiet" system hook and loop silencer
Expandable front pockets
Detachable Gripper shoulder & Grab strap
Domke flap tucks in for anonymity
All zippers YKK®
Comes with 3 dividers
Mobility
I have taken the Domke RuggedWear Military bag on 2 excursions.  One required travel through an airport and another was a mild photo shoot walking around a farm.  I was thoroughly impressed with the bag on both occasions.
The first trip was to Georgia which required flying on a commercial aircraft.  This wasn't the normal photo trip though, I had to do some recording for an upcoming course I am developing so I needed to bring a light amount of audio and video gear on top of my camera and lenses.  I was skeptical that this bag would work for that intended purpose, but I packed it out anyway!
Contents for long trip:
Domke Bag
Sensor Cleaning supplies
24-105 Canon Lens
14mm Rokinon Wide Angle Lens
Canon EOS 6D with Canon 17-40 mm Lens
Panasonic x-920 Camcorder
Sony A6000 Mirrorless camera
Microfiber Cleaning Cloth
Survival Supplies
Assorted flashlights
3x LCD Loupe
Air Blower
Spare Memory Card
Tiffen ND Filter
Remote Trigger for Sony (Canon not displayed)
Spare Canon and Panasonic Batteries (Chargers not displayed but packed as well)
Spare 9 Volt and AA Batteries
Lee Big Stopper and Accessories
Rode Microphone
This bag was packed to the brim with the items seen in the picture above.  While the Domke RuggedWear bag can hold all of this, I do not suggest hiking with it as it was very heavy on my shoulder.
As far as mobility through the airport this bag was awesome!  It fit perfectly in the security trays and even more comfortably under the seat of the aircraft with plenty of room for my laptop bag next to it.  The Domke bag also comes with a strap on the back that conveniently loops around the carrying handle of your suit case.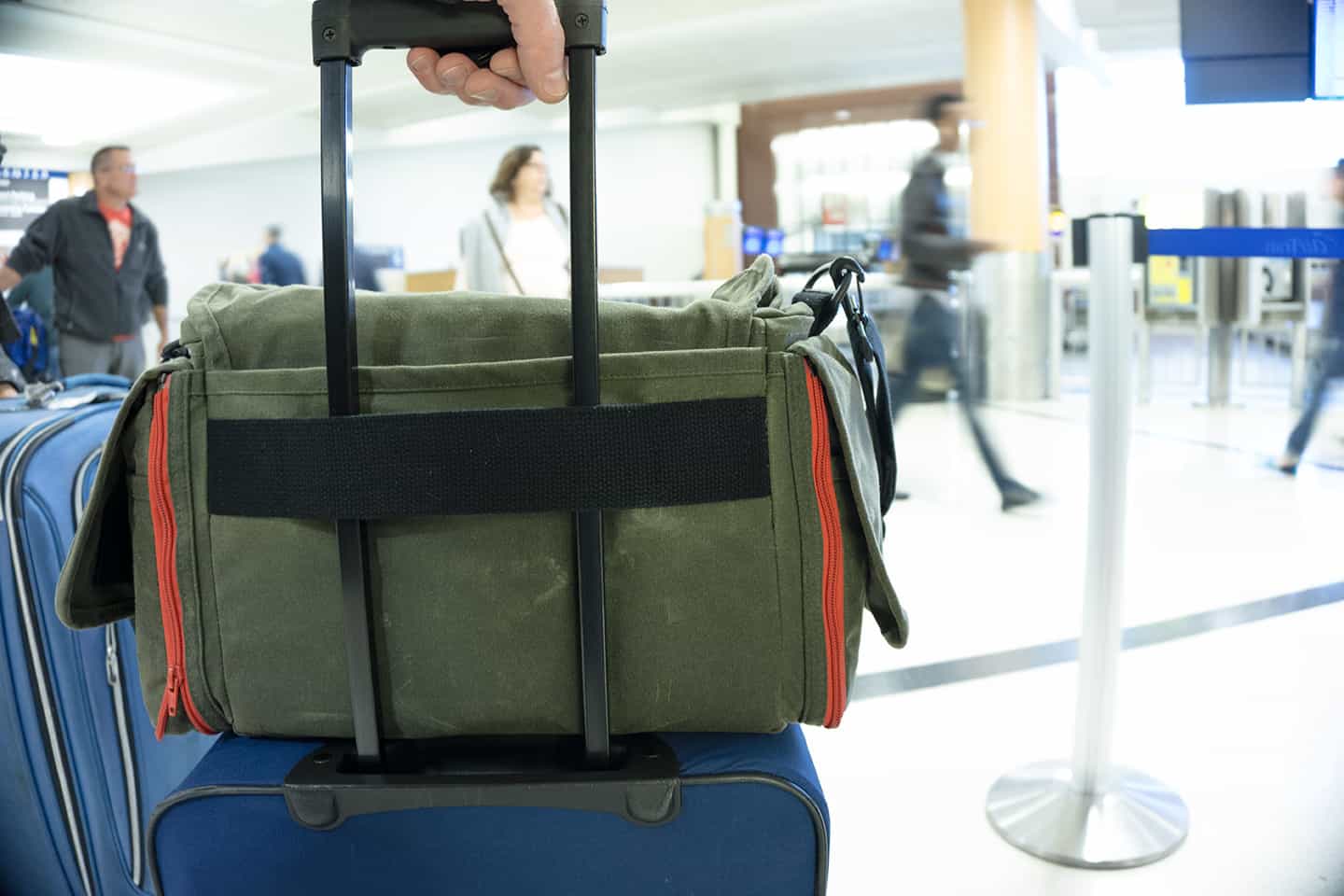 Limiting Factors
While the Domke RuggedWear Military Bag is versatile and durable, it does have some limiting factors.  It is not designed for long extended hikes with a lot of gear.  A two strap bag (backpack style) is more ideal for that purpose, but the key is to pack appropriately for the environment you will find yourself in.
With all of its fine construction and quality materials, I was baffled by the decision to use plastic hardware on the strap and strap connection.  The front of the bag has steel hardware, but the strap uses plastic on both the strap and the connection point.  While it seems like heavy duty plastic it appears to be the only design flaw in the construction of this bag.
In Closing
I am very impressed with the Domke RuggedWear Military bag.  It can hold everything but the kitchen sink and do it safely with the high end padding throughout the interior.  When it comes down to it, we place so many objects of high value into our bags, but rarely buy bags of value.  After experiencing the versatility, durability, and mobility of this large bag I am looking into other Domke camera bags for my shorter, one or two lens, hikes.  Great bag and made in the USA!