Here is an interesting webpage, ExposioHDR, an online HDR processing engine that uses cloud technology as it's base.  It reaches out to real estate agents as a way for them to create HDR images for the houses they put on the market.  It is a very simple website that makes uploading easy, but it takes the tone mapping away from the user.  I had a feeling that HDR would soon become automated, but I thought it would happen more widely in camera than on the web.  Do us HDRtists have anything to fear with this new HDR processing webpage?
The Interface: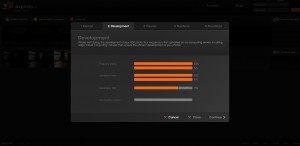 The Pros:
Your photos are saved to the endless capacity of the cloud.
Great for who it is intended for, real estate agents.
Very clean interface and extremely user friendly.
No over the top HDR look, the saturation is held true to the original exposure set and halos are avoided rather well.
The Cons:
Since it is all internet based and uploading is part of the processing, it can take nearly 10 minutes to process one HDR photo on the average users internet connection.
Does not process Raw files or Tiff files.
No user tone mapping required, takes the art away from the user: Not good for avid HDR photographers.
They did not spell developing correctly (developping HDR on their interface).  This ruins the credibility of a website trying to sell something when simple grammar and spelling are incorrect. Spell check is free.
The Bottom Line:
It is great for who it is intended, real estate agents who want decent HDR photos without them being to far over the edge.  Us HDR photographers have nothing to fear.  While the automated HDR idea looks great on paper, it just cannot get the results an HDRtist can achieve.    However, I would rather pay $100 for HDR Efex Pro or Photomatix than spend 2.95 per image, at that rate I can only do 34 images before I could have purchased a true HDR program.