In case you haven't noticed from the title, Monday on EverydayHDR.com will be the featured photo of the weekend.  Since this weekend was the infamous (loved by all…) Drill weekend for the Air Force National Guard, I figured I would post some military related HDR goodies.  The first image is of Hangar's 2 and 3 at Moffett Federal Airfield in Mountain View, CA.  The picture does them no justice.  These hangars make Redwood trees look like shrubs!  Many years ago, before the Air Force moved to Moffett, the Navy used to work out of these hangars.  We are talking fully functional squadrons, a from a  medical facility to P3 Aircraft mechanics shops.  Now most of the space inside is abandon, although NASA does house the new Airship in the hangar on the right.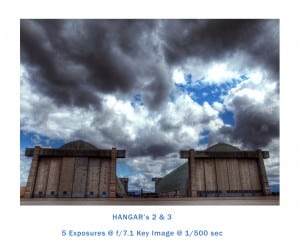 I know it is featured PHOTO, but I am in a good mood and this Friday's tutorial will demonstrate how the following HDR image was achieved.  The HH-60G Pavehawk, a rescue modified Blackhawk.  Notice the probe in the front, that is for mid air refueling via C130!  Imagine being able to refuel you car while driving!  You could make it from Texas to Florida without stopping to fuel or pee, if you are an astronaut wearing a diaper, sorry….Bad Nasa joke!  This helicopter is the Cadillac of the Air Force's aircraft inventory.  I had the luxury of taking a tour of the San Francisco bay area.  If you know anything about the bay area, it does not snow!  We took the helo to the hills, landed, had a snowball fight, and an awesome photo shoot.  I won't soon forget that day!  It is actually astonishing how many free helicopter flights you can get with these guys when they know you are interested in becoming a pilot!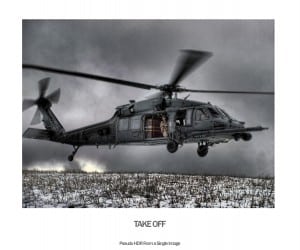 Due to the movement of the helicopter, the HDR processing is quite different.  We will get into that on Friday!  I highly suggest you stay tuned!  Also, Wednesday I will be featuring an HDR artist friend of mine from Redbubble.  You will NOT be let down!  Every time I see new work of his on the bubble, my heart skips a beat.  His HDR style is very attractive!