A Look at Lens Adapters
These days there are tons of ILC and Mirrorless cameras on the market that are giving DSLRs a run for their money.  DSLRs have been the Gold Standard for a very long time and there are hundreds of lenses for each major camera maker.  The opposite is true for the mirrorless and ILC cameras.  It seems the manufacturers are crushing out these little camera bodies without producing adequate lenses to compare to the DSLRs on the market, case in point, the Sony line-up.
I purchased a Sony a6000 in September and have only picked it up a handful of times.  This is not because the camera is incapable of producing great results, it's very much the opposite actually.  It is due to the kit lens that came with it.  I will boldly say the 16-50mm powered lens that comes with the a6000 is trash.  The images are very soft and the lens itself sounds clunky during operation.
Why not buy another Sony lens?
Well there are only about 20 to choose from for the a6000 and to be honest, I don't place a lot of trust in Sony to produce a great lens based on the results of the kit lens.  I wouldn't give the Sony a6000 with the kit lens attached to an enemy to use.  Okay okay, maybe it isn't that bad, but my point is my upgrade choices are very slim.
Zeiss makes some very fancy glass for this camera.  However, before I dropped $1000 on a lens for my side-arm camera I wanted to make sure the a6000 was capable of great pictures with a good quality lens.
This is where the lens adapter comes in.  With a lens adapter you are able to convert the Mirrorless or ILC mount to adapt to the lenses of other camera makers.  There are many camera companies making these Lens Adapters, from big names like Metabones to the lesser known ones like Fotga…
What to look for in a Lens Adapter
I did a ton of research on Lens Adapters before I made my purchase.  I looked into Metabones and was just about to pull the trigger, but I couldn't justify the price.  The Metabones adapters are known for their quality and ability to use Autofocus and Aperture Control.  However, they are very expensive, almost the cost of a decent lens for the Sony.
In the past I have been accused of not being "professional" for my thrifty nature when it comes to gear choices.  However, I have diapers to buy and Infant Formula is not cheap!  If I can save a buck or 200 here or there for a product that is relatively similar (if not the same exact thing), I am going to!  It really comes down to what you plan on using it for, how often you plan on using it, and if the features will benefit you.
So what are you looking for?
Is the Lens adapter chipped for Autofocus
Is the lens Adapter chipped for Aperture Control
The latter is the most important, especially for my purposes.  If the adapter is not chipped for Aperture Control you have to set the aperture on the Canon camera, remove the lens, and then place it on the Sony camera.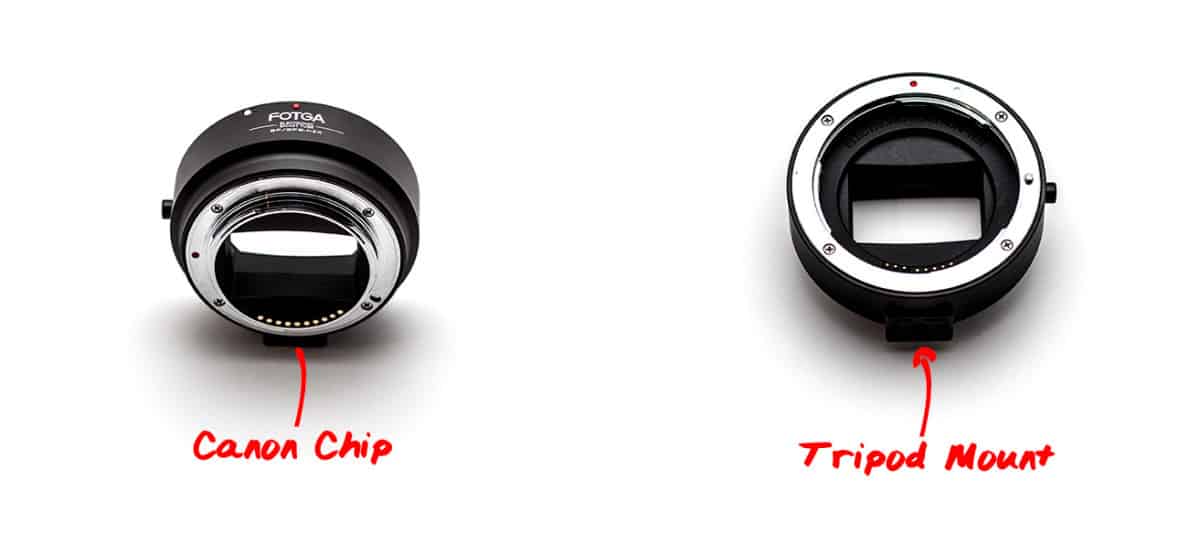 If you want to change the aperture you have to remove it from the Sony camera, place it on the Canon Camera, set the Aperture, remove it from the Canon and replace it on the Sony.  This is a ridiculous process and is typically only the case if you buy a very cheap adapter that is not chipped for aperture control.
Autofocusing with a Lens Adapter is possible, however, it will always be slower.  Whether you are using the Metabones Adapters or a cheap adapter there will be some reduction in autofocus speed.  Being a landscape photographer, I pretty much am tri-pod mounted and am shooting with Live-View in Manual Focus.  Autofocus speed is not critical for my purpose and daily use.
Why the Fotga Lens Adapter
Anytime you purchase a no-name brand on Amazon you are in for a crap shoot.  I learned my lesson many times from buying cheap crap on Amazon.  However, this Adapter seemed to be receiving enough good reviews that I thought I'd give it a chance.  I purchased it on Amazon for $63 compared to many of its competitors that come in at $3-400.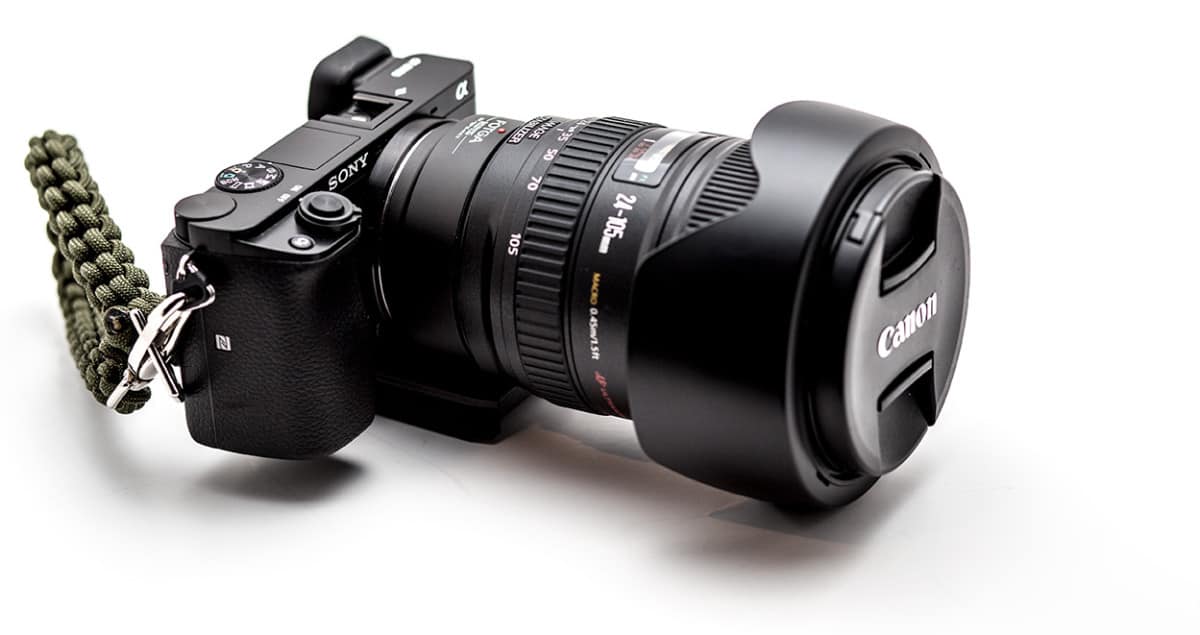 The Good:
It works exactly as advertised.  I did not have any problems with the connection to the a6000 and every lens I tested with it was fully compatible.
Lenses Tested
Canon 50mm – 1.4
Canon 85mm – 1.8
Canon 24-105mm L USM
Canon 17-40mm L USM
Canon 70-300mm f4.5-5.6
Rokinon 14mm f/2.8
I was able to control the Aperture without any problems.
Infinity Focus was achieved on field tests with the Rokinon 14mm and 17-40mm lenses.
I am now able to use all of my beautiful L series glass on the a6000!
The Bad:
Autofocus was horrible, at best, in low light.  While in my office lighting, I turned the focus dial way out of focus and tried to autofocus, the motor moved for about 3 seconds and never focused on anything.  Outdoors it fared a little better, but I would not rely on Autofocus while using this lens adapter.
It does have a slight movement in the connection to the a6000.  I noticed when I was focusing the 70-300mm lens at 300 that when I removed my hand from the lens it fell about a 1/16 of an inch.  In terms of wide angle lenses this is not critical and will not be noticed, but with a long zoom you will see  difference in the composition.
The Bottom Line:
If you are a Landscape photographer and autofocus speed is not critical for you, this adapter is perfect.  It does exactly what it is supposed to do and does it for a fraction of the cost of many other lens adapters.  We will see how it fares in the long run with more extensive testing.
Stay Tuned!  On Friday I will be showing the Canon 6D vs the a6000 in a field test on ISO, Crop Factor, HDR processing, and Image Quality all using the same lenses.