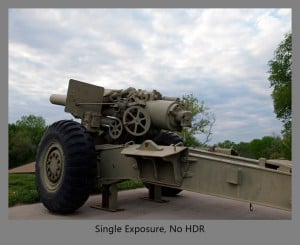 The 3rd installment of the HDR concert is upon us.  Please join me and many others in another HDR performance, the last two were such a success I cannot wait to see this months entries.  This one should be pretty explosive, no pun intended!
 A couple of things to note:
Follow the general guidelines outlined here.
Really push yourself with this one.  It is an interesting subject matter with a lot of history.  A Howitzer cannon can afford you with tons of post processing ideas.
You may add any element to this photo that you would like.  There are no limits to the amount of processing you may do.  Add some texture, maybe a border, you may even throw in samples of your own images if you would like.
The first 10 people to send their tone mapped file ( send to: everydayhdr@gmail.com) will have a seat in the order they were received.  When I receive your tone mapped image, you will be emailed a form to fill out for the concert, please fill it out in it's entirety exactly as you would like it seen on the blog.
The submissions must be in by Monday the 23rd of April by Midnight Central Standard Time USA.
I will post the 3rd HDR Concert on Wednesday April 25th.
Have fun!
 Previous HDR Concerts: