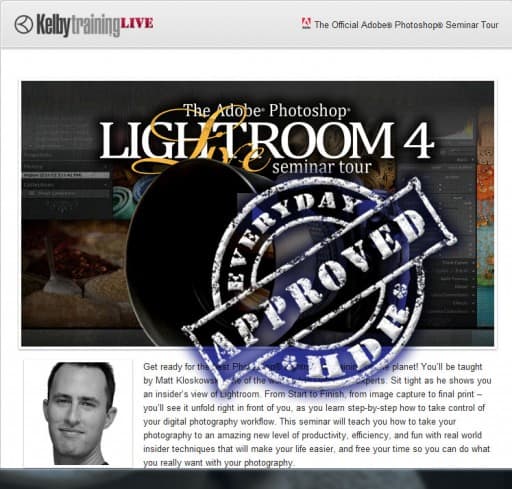 Tomorrow I will be attending the Kelby Training Live series with Matt Kloskowski's Lightroom 4 Tour!  I am excited to finally learn Lightroom the right way by a true subject matter expert in the Lightroom circle.  Matt K runs the awesome Lightroom website, Lightroom Killer Tips.  I have been wanting to jump in the Lightroom boat for quite some time now, but have been quite intimidated.  I am stoked to learn it from good friend and subject matter expert Matt Kloskowski!
Have you ever attended a Kelby Training Live Event?  If not, you should really look into one in a city near you.  I went to one a little over a year ago, From Focus To Finished, with Ben Willmore and it was incredible!  A whole day devoted to Photoshop from taking a picture to saving it when you are all done in Photoshop.  Ben gave several hundred valuable tips and tricks that I still use today!  As a matter of fact I learned a lot about hot keys in Photoshop from Ben.  I am looking forward to seeing the same with the Lightroom Tour, and who knows, you may see some Lightroom tutorials here afterward!
Check out the Lightroom 4 Tour site to see if it is coming to a city near you!