Hello everyone, I know it has been almost 2 weeks now, my apologies, but my little man has stolen my heart and apparently all of my time.  I gladly give it all up, it is amazing how you can find the entertainment from staring at a sleeping baby.  We find ourselves doing that all day, a few weeks ago the TV was always on as white noise, it is now replaced with newborn grunts and the most adorable sleeping sounds.  Look at what I have become, you may find it sappy, but just you wait, you will be the same way when you have a little piece of the heavens to cherish!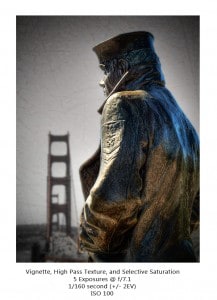 This is the last week the family and I will be living in the San Francisco Bay Area.  It didn't really hit me until last week when I took my Mother-in-law to the city to cross the Golden Gate Bridge and hang out on the pier.  Ironically, I captured one of the most significant pictures I have ever taken of the Golden Gate bridge.  All this time of going to that Vista Point on the Northern side of the bridge with my blinders on.  There is an incredible bronze sculpture of a sailor making his way back or departing the bay, I guess it is up to the viewer's discretion.  When I saw it, it was a symbol of this old salty dog leaving the bay.  If only I could throw some Tech Sergeant stripes on him.  I will be doing a tutorial this week of how this picture was possible it is a combination of many tricks I have already shown you, but I will pull them all together for practical usage.
While I will not miss the traffic in the Bay, I will definitely miss all of the beautiful panoramic views and abundance of things to do on the weekends.  If anyone is reading this from Missouri, please feel free to chime in on great places for me to photograph when we get there!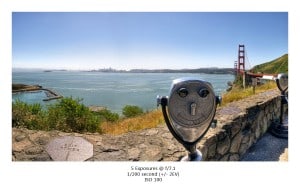 I will be making my way to Missouri this coming Thursday, and with the move, the blogging will once again be thin!  However, I will be posting pictures with little descriptions along the way.  More than likely from my phone, so I apologize for the low res pictures in advance!