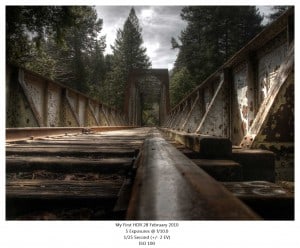 I took my first HDR image on 28 February 2010 at Henry Cowell's Redwood Forest near Santa Cruz, California.  I was digging through my archives and found it, all somber and forgotten, poor guy.  I looked at the tone mapped file that I did in 2010 and realized my HDR skills have improved greatly.  Not only have I become more familiar with Photomatix, but I have drastically improved my post processing skills.  After going to 2 Photoshop Worlds between now and then, I wanted to see just what I could do with this image now.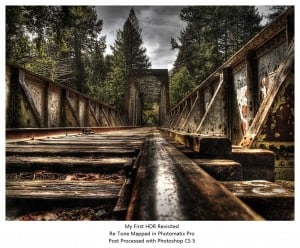 The difference between the two is absolutely uncanny.  This is proof that post processing is the most important aspect of photography.  Post processing is the fine tuning, it is what separates a good image from an awesome image.  I have heard many digital photogs bragging about not using Photoshop as if that is something to gloat about.  Why wouldn't you want to make your images better?  I am almost certain that the greats like Ansel Adams and Alfred Stieglitz would be using digital cameras and Photoshop if they were around these days.  Could you imagine what Ansel could do with the saturation slider, or better yet the contrast slider.  I bet he would tear up the curves adjustment layer and be snuggling with high pass sharpening on a cold winter night.
If you are one of those "naturalist's" that brags about not doing anything to your images, maybe you should reconsider your perspective.  Post processing is the icing on the cake, and with time you get so much better at it.  These images are just shy of 2 years apart, I cannot wait to see what it will look like in another 2 years.  "Knowing what I know now, I will know twice that tomorrow."  Ooh, quote me on that one, go ahead and copy and paste that into your favorite social media site!
Never stop photographing, never stop post processing, never stop improving!  Have a great week everyone!