It is difficult to come up with something new every week when you live in Missouri.  It was so much easier when the coast was practically in the backyard, well more like 30 minutes away, but you get the point.  It is very easy to be a landscape HDR photog in California, it is almost like cheating.  The subject matter in Missouri is far inferior to that of the West Coast, however, now and then you find something interesting.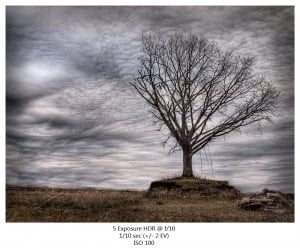 I pass this awkward looking tree every day on my commute to and from work.  It is peculiar looking as the ground is level around it, but the tree rests on a pedestal mound of dirt.  I got a closer look at it yesterday when I went to photograph it.  Turns out there is a company that is planning to make some commercial buildings around the area, but as they leveled the ground, they left the tree.  I love the feel of this tree and will find myself photographing it more often I am sure.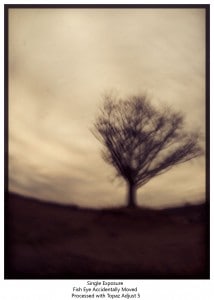 As I was walking toward it I accidentally snapped a pick with my fish eye on.  Of course, it happened to be my favorite shot from  the entire day.  I used Topaz Adjust 5 to heighten the image a bit and am very satisfied with the results.  It is exactly the look I imagined when I saw the digital "negative".  I cannot stress enough how important it is to have a helpful post processing program.  Topaz Adjust 5 is perfect, the cost is simply pennies for the effects you can acquire.  This image speaks miles to me, almost like the first time I saw Alfred Stieglitz' photographic work.
After fumbling with my happy accident, I was able to get the shot I wanted with the Fish Eye, but I don't think it is as effective as the image above.  I used Topaz Adjust 5 on this one also.  I can't decide which one I like better, so I am displaying them both.