Good news!  EverydayHDR will now be contributing to HDR Spotting, thanks to Philip Johnson and his gracious registration code.  HDR Spotting has a closed registration by register code only.  Philip was kind enough to throw me his extra one.  You ROCK Philip as does your portfolio!
I recently picked up a very inexpensive 8mm fisheye lens from Amazon.  It is made by Rokinon, don't let the name fool you, this lens is crazy fun!  It reminds me a bit of my old school days playing with a manual film camera for the first time.  What some may consider a downfall is the inability to set the aperture in camera and no auto-focus, but wait!  Before you disregard it, playing with the lens aperture and focus ring is what photography should be all about.  We are spoiled these days with auto-focus, auto white balance, auto aperture, auto bracketing, auto blah blah blah!  Why not throw down a couple bucks and play with the true nature of Photography.  The manual aspects of this lens will force you to slow down a bit with the camera, take a breather, concentrate, and maybe even help compose better images.  It is just a thought.
Bottom Line: I have not seen a single flaw so far with the lens, I intend on playing with it A LOT, you will see more images in the future!
Here are your Amazon links, oh and buy through my web links if you are interested, I am an Amazon Affiliate now (that means a very small commission)!  Olympus, Nikon, Canon, Sony, Pentax, Samsung.
Here is my desk, the sticky notes have reproduced since I started EverydayHDR.   My wife told me that it looked like a sticky note factory blew up on it.  You see the Bamboo text, the face of the lens was 9 inches away from that, talk about a killer field of view!  I use the crap out of my Bamboo tablet…can you tell?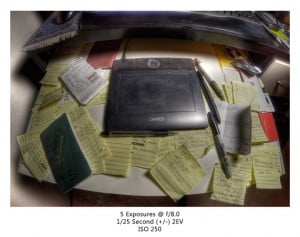 I used the lens for 2 of my self portraits on Monday.