A Review of the Tamrac Anvil Slim 15 and the Corona 20 Camera Bags
I have been using Tamrac bags for quite a while.  My first and most favorite bag (until now) was the old Tamrac Adventurer bag.  It got me through quite a few Workshops and, as the name implies, adventures.  However, as my kit has grown and my travels have become more frequent, I have been in the market for a new camera bag.  I narrowed my search down to the Tamrac Anvil Slim 15 and the Corona 20, both of which are great bags, but for very different reasons.
Before we take a look at these particular bags, I want to take the time to talk about camera bags in general.  I own several bags, more than I can count, I think, and I have come to terms with the type of bag that best suits me.  I have used sling bags, backpack slings, messenger slings and true backpack style bags.  My favorite has to be the latter.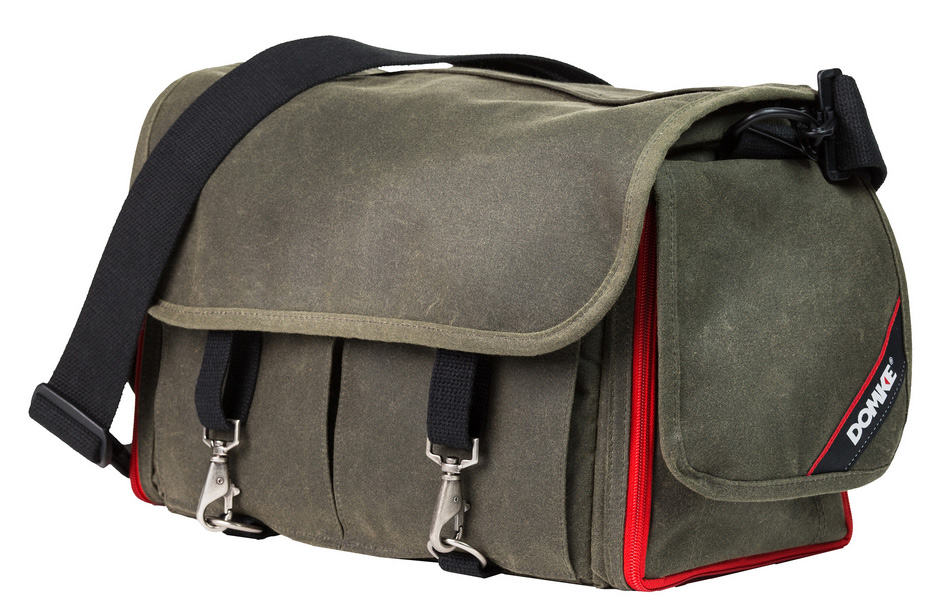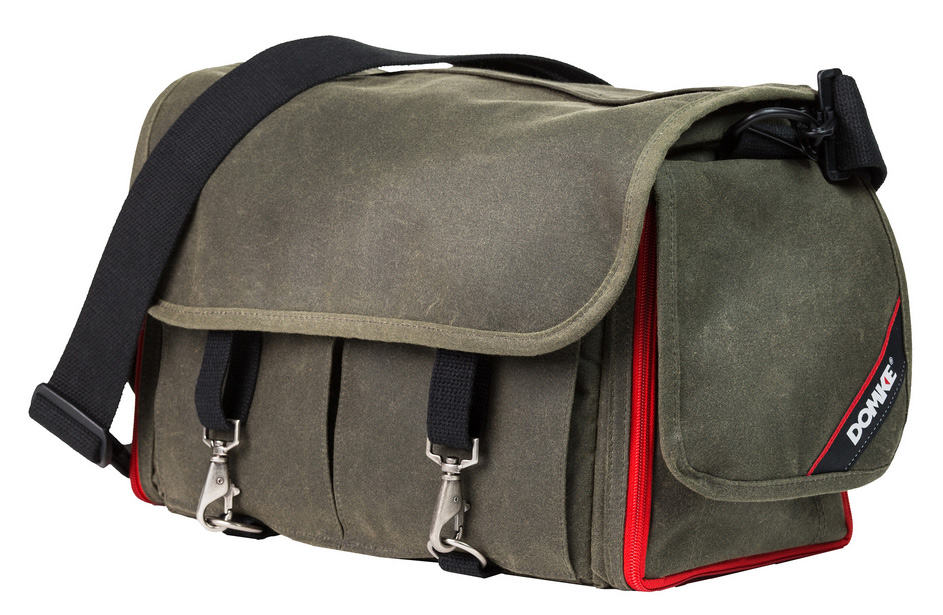 For years I carried around a Domke Ruggedware Military bag.  At first, I loved the bag, and in many ways I still do, but the messenger style bag is a shoulder breaker on long hikes.  As a matter of fact, hiking through Yosemite with that bag and all my gear may have required a visit to the Chiropractor.  It is not a practical way to carry a lot of gear over a long period.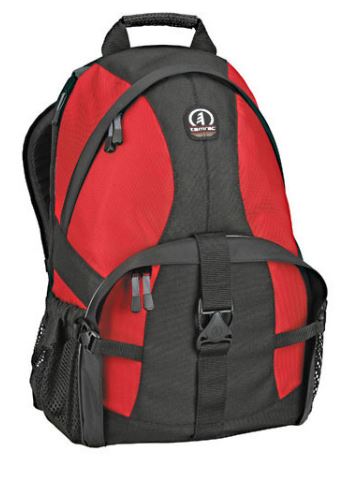 Coming to terms with the inability to hike with the Domke, led me to revert to my Tamrac Adventurer bag.  An old bag yes, but a trusted one indeed.  It could fit quite a bit of gear in it, and it's true backpack style made it comfortable along the way.  The only problem was the improper use of space.  I found myself carrying my zoom lenses in the top compartment out of necessity while in Yosemite.  That probably wasn't the best idea I have ever had as the top compartment does not have a great deal of padding.
Enter the Anvil Slim 15.  My first run in with the bag came at the Out of Chicago seminar where I had ample time to inspect the bag prior to making a decision.  My first impression was, "Tamrac nailed the design of this backpack!"  Moving down the table I caught a glimpse of the Corona 20 and had to have a closer look.
For the most part, these bags are almost identically constructed, as far as craftsmanship is concerned.  For the review I will be focusing on both bags when I refer to construction.  Toward the end, I will branch off and discuss who each bag is for.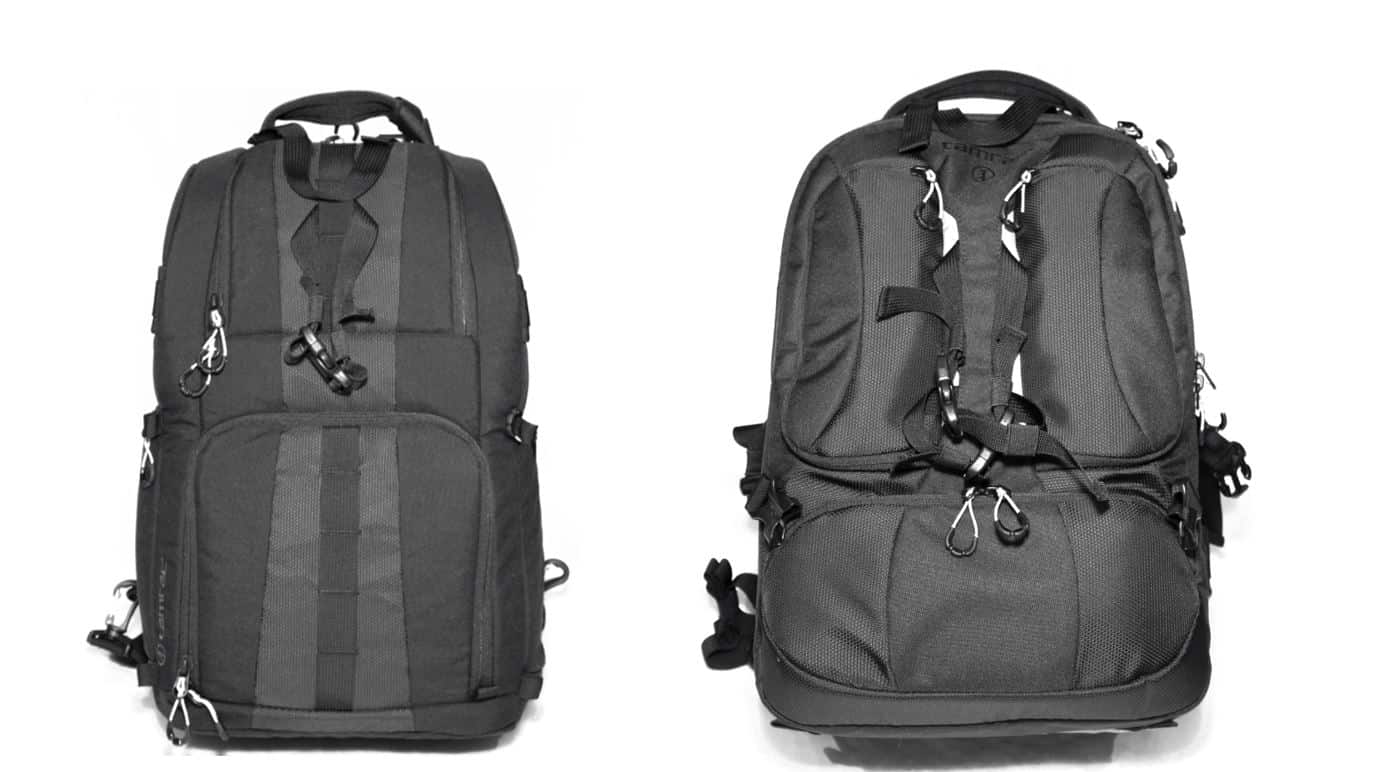 Craftsmanship of the Tamrac Anvil Slim 15 and Corona 20 Bags
The first thing I look at when I pick up a camera bag is the construction.  It may be the former FAA Master Parachute Rigger in me, who knows.  I can spot shotty construction in a matter of seconds. After looking over the Tamrac bags with a fine-toothed comb, I am confident they will hold up even with a fully packed bag.
Tamrac used some of the best materials in the industry in the construction of the Anvil and Corona Bags.  From the lightweight, but durable Cordura to the heavy duty webbing, they didn't go slim on their fabric decisions.  Some of my favorite aspects of the bag are the fastex buckles they used on the chest strap and the slick finger hole zippers that glide right around the bag as you open it.
The addition of multiple Molle Sections is a very nice touch as well.  If you are unfamiliar with Molle, it is a type of webbing construction added to back packs that allow for modular additions to the bag.  With the Molle sections on the camera bag, you can add "free" bags to the main camera bag with velcro or button straps.
Add-ons and Features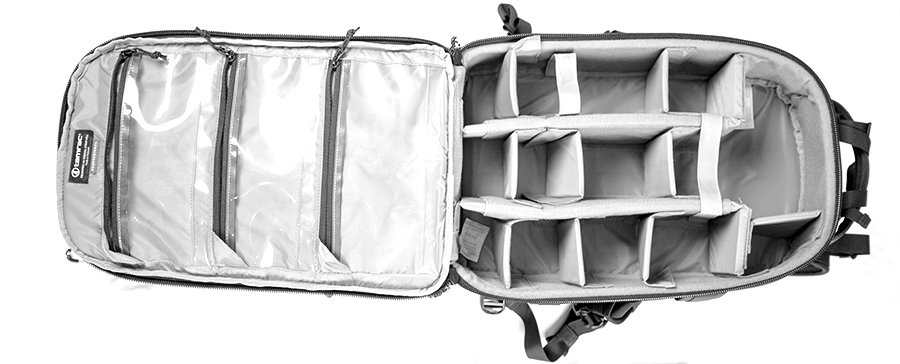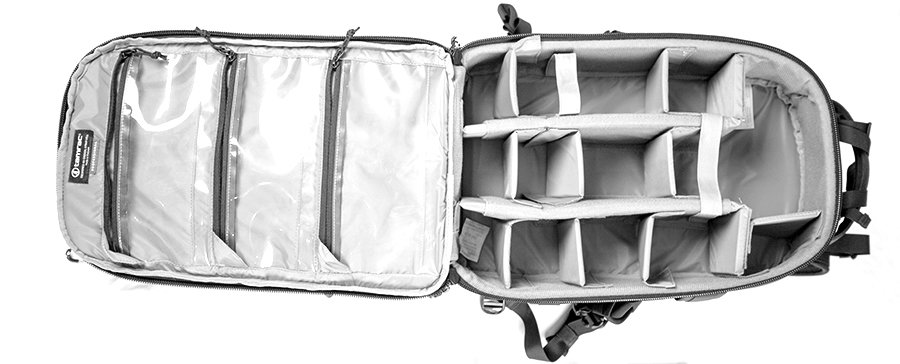 The Tamrac bags are outfitted with everything you'd expect in a camera bag and then some.  Both bags have modular Velcro dividers so you can setup the bag to fit your individual needs.  Tamrac also included two elastic bands (one in the Corona 20) to hold in those heavy duty lenses that tend to shift around in their larger demanded sections.
In addition to the modular design (something we have grown to expect in camera bags), Tamrac added an optional waist strap.  In everyday use, the waist strap may not be necessary, but for long hikes, it is almost mandatory.  It helps relieve a lot of weight from your back and cinches it closer to your body, so it doesn't move around as freely.  I like having the ability to remove it when I am going on short jaunts as the waist straps on bags tend to get in the way if they are not worn at all times.
Tamrac also includes a rain cover that fits snugly around the entire bag.  I could have used that in Yosemite in May.  Between getting soaked by waterfalls and stuck in a downpour on Glacier Point, my bag was rarely dry.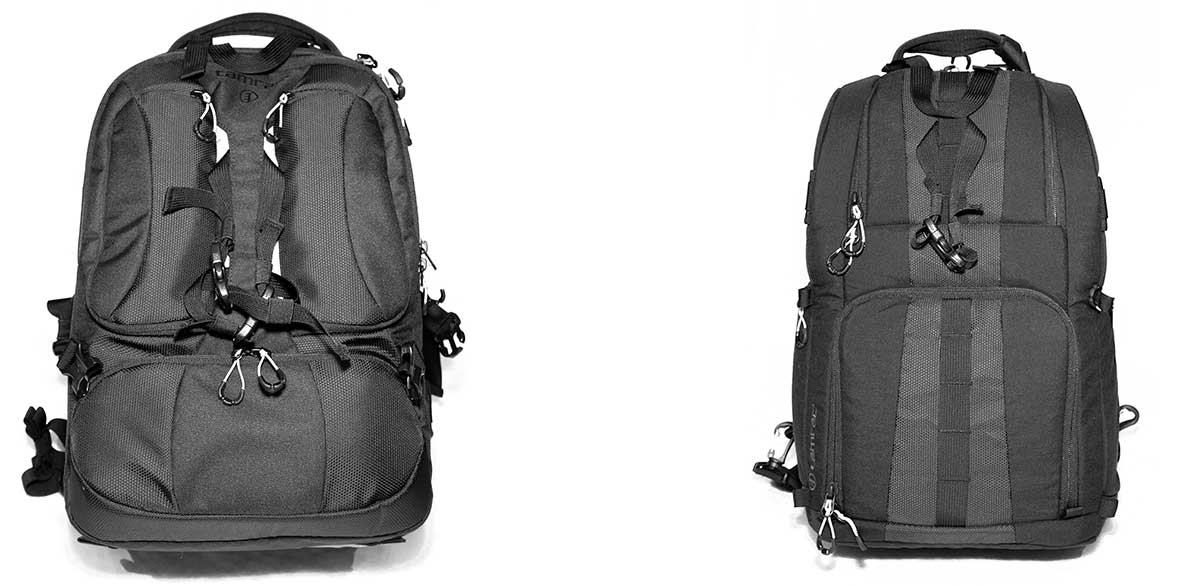 Anvil Slim 15
Someone with a lot of gear.
Someone who prefers a true backpack style bag.
Someone who goes on long hikes.
Photography Pack Rats (like me)
Built for comfort, a lot of gear, and long trips
Corona 20
 Someone with a small camera kit.
 The Sling type bag owners will love this!
 Someone  who doesn't go on long hikes to get their shots.
 Someone who prefers to travel light.
 Built for quick access, lite gear loads, and shorter trips.
Look at the whole Tamrac Line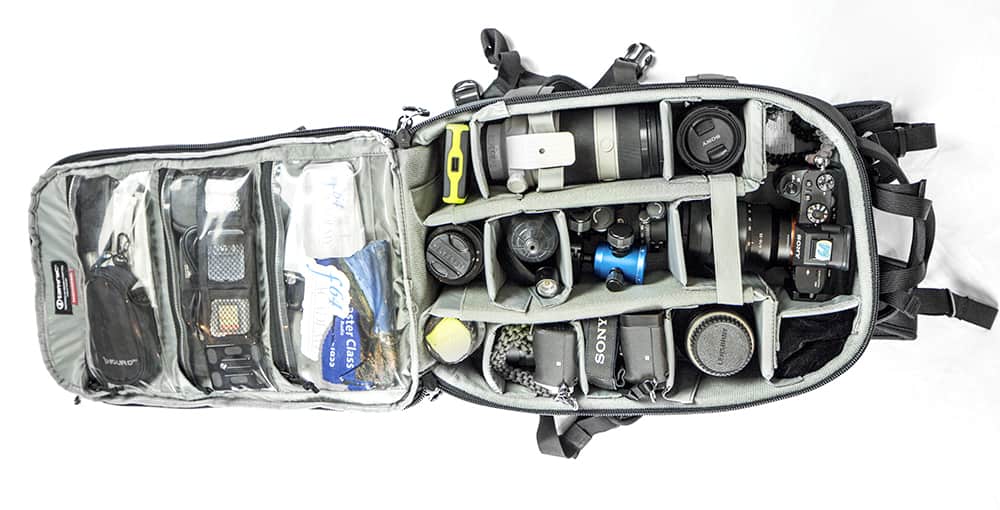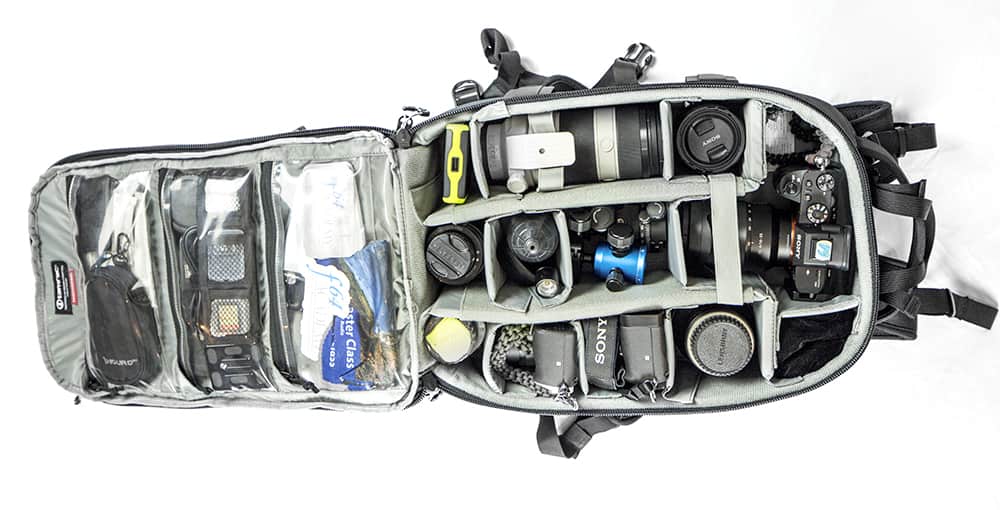 All The Items In the Tamrac Slim 15 Bag (Click here to expand)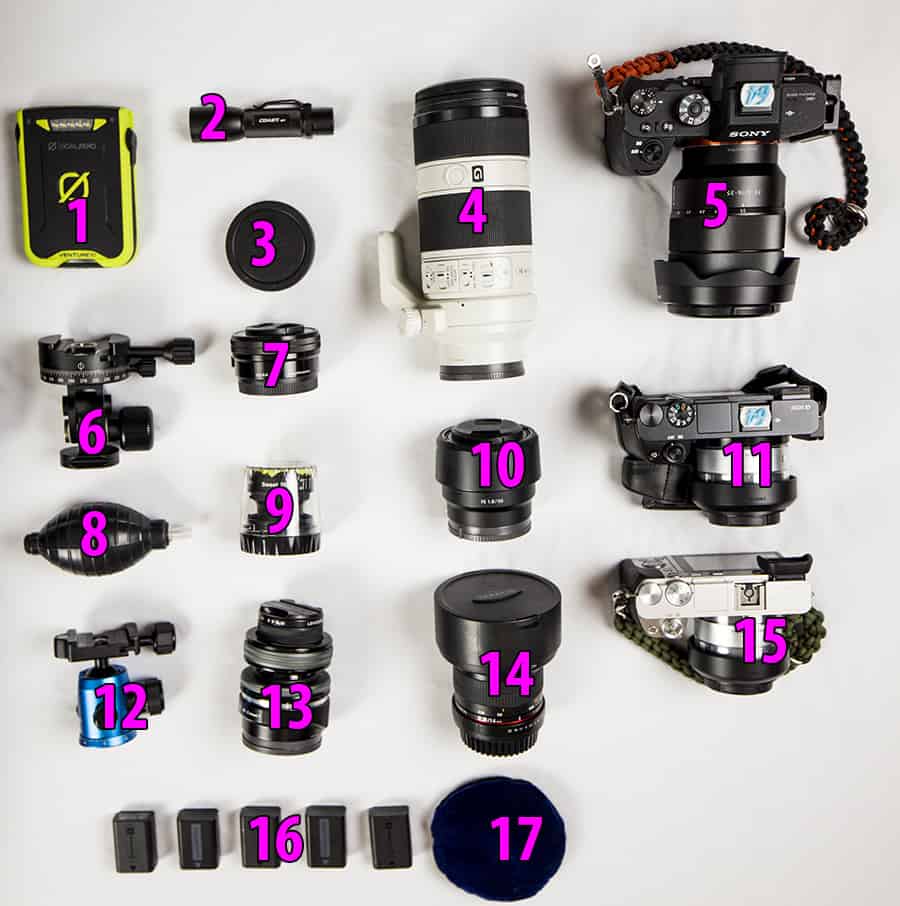 1. Goal Zero Charger.  Anyone with a Sony Mirrorless will understand!
2. Coast Flashlight
3. Sony Body and Rear Lens Caps
4. Sony f/4 70-200 Lens
5. Sony a7RII
6.  Haoge Tilt head:  I use this to put on my tripod when conducting Vertical Panoramas
7. Sony 16-50mm Kit Lens for the a6000
8. Portable Sensor Duster
9. Lens Baby Sweet 35 Optic for Composer II
10. Sony f/1.8 50mm  Lens
11. Sony a6000 with Sigma 19mm lens
12. MeFoto Ball Head for the Platypod Pro
13. Lens Baby Composer II with Edge Optic (Canon version with the Metabones IV adapter attached)
14. Rokinon f/2.8 14mm Lens
15.  Sony a6000 IR Converted with Sigma 19mm lens attached
16. 5 Extra Sony Batteries
17. Bean Bag for extremely low angle shows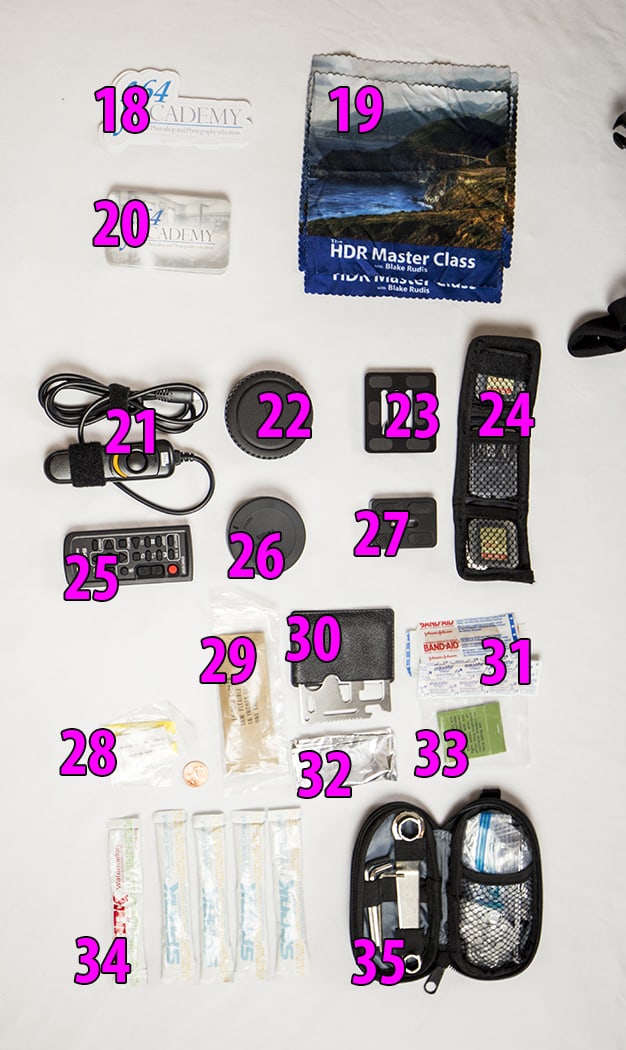 18. f64 Academy Stickers
19. HDR Master Class Cleaning Clothes
20.  Stack of f64 Academy business cards
21. Spare Shutter Release
22. Canon Body and Rear Lens cap
23. Spare Arca Swiss Mounting Plate
24. Spare SD Cards
25. IR Remote for Sony Cameras
26. Sony Body and Rear Lens Cap
27. Spare Arca Swiss Mounting Plate
28. Fishing Kit
29. Hand Saw
30. Multi-Tool
31. Band-Aids (most likely for when I use the hand saw)
32. Foil (for cooking the fish that I catch in a survival setting)
33. Matches
34. Advocare Spark Energy Drink
35. Tripod and Arca-Swiss Tools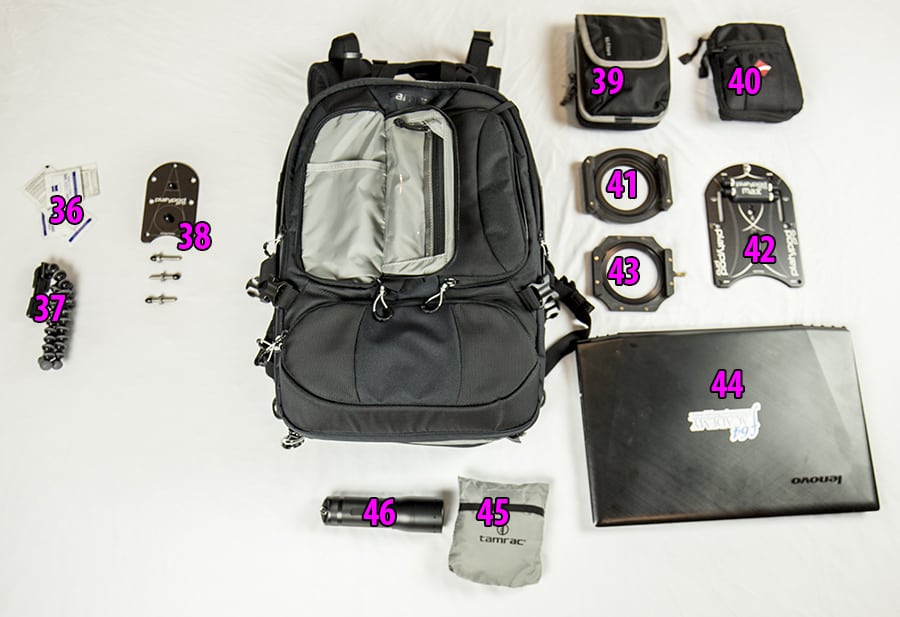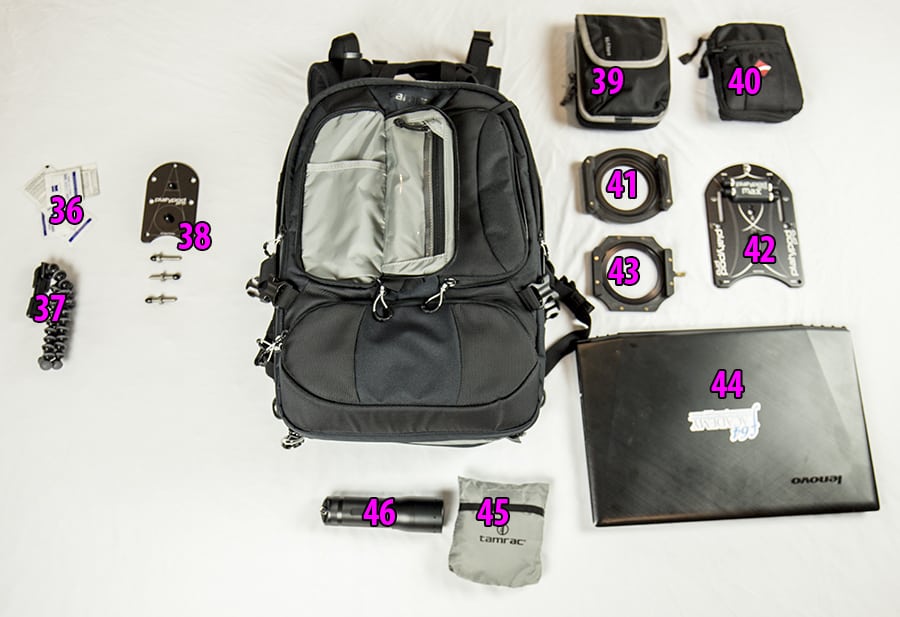 36. Zeiss Lens Cleaning Tissue
37. Cell Phone Tripod
38. Platypod Pro
39. ND Filter Holder and set of ND Filters ( 2 x 10 Stop, 6 Stop, Graduated ND Filter, 3 stop screw on, CPL)
40. Sensor and Lens Cleaning Kit
41.  Vu Filter Holder
42. Platypod Pro Max
43. Lee Filter Holder
44. Lenovo 15″ Laptop
45. Tamrac Rain Cover
46. High-Powered LED Flashlight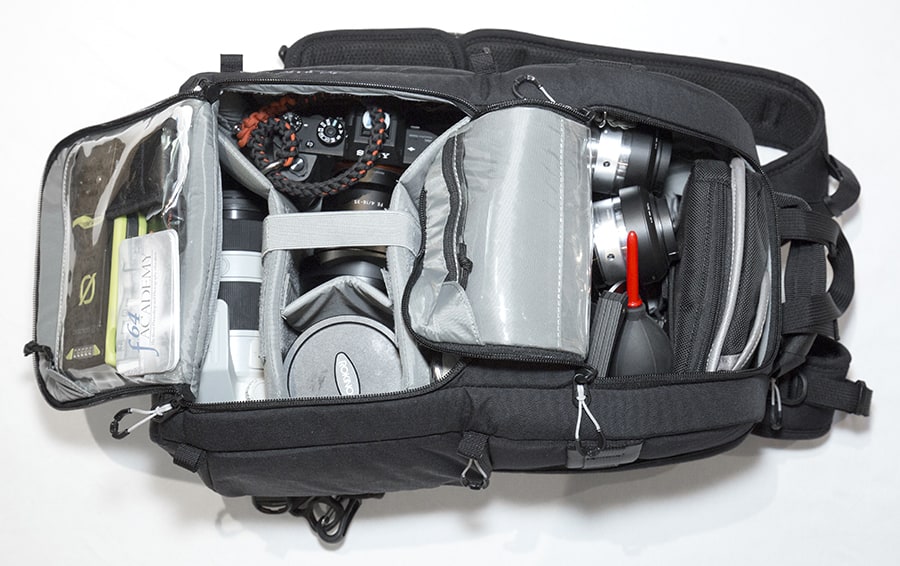 All The Items In the Tamrac Corona 20 Bag (Click here to expand)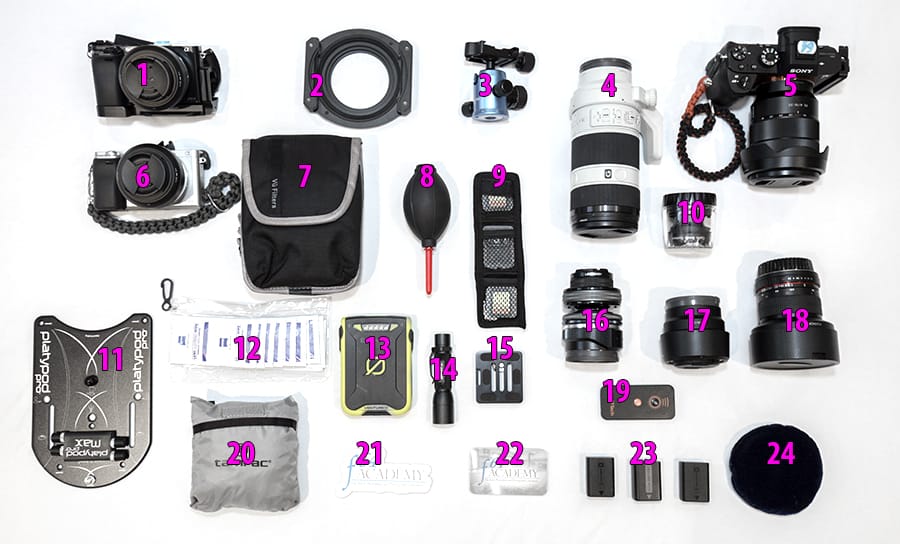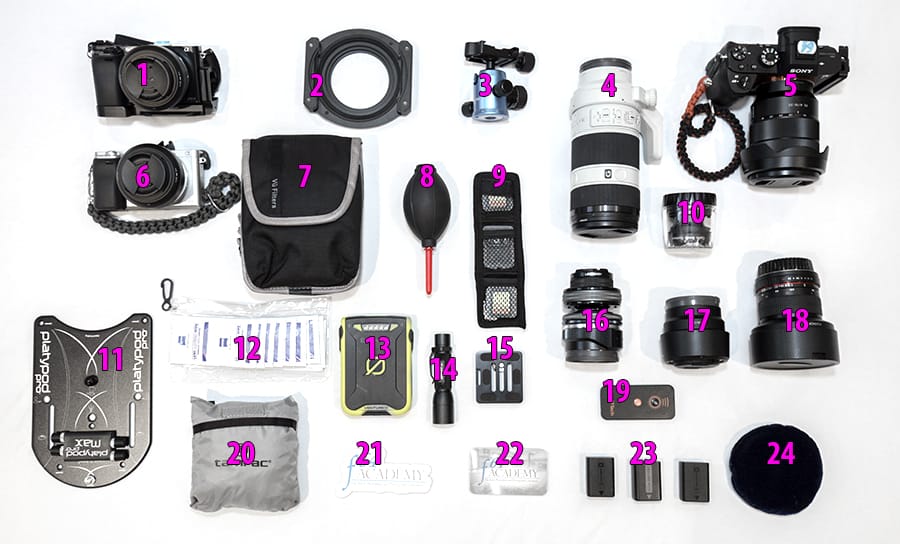 1. Sony a6000 with Sigma 19mm lens
2. Vu Filter Foundation Kit
3. MeFoto Ballhead for the PlatyPod Pro
4. Sony 70-200mm f/4
5.   Sony a7rII
6. Sony a6000 IR Converted with Sigma 19mm Lens
7. Vu Filter Holder with several ND Filters Inside
8. Air Blower for Quick Sensor Cleaning
9. SD Card Wallet with Spare SD Cards
10. Lens Baby Sweet 35 Optics
11. PlatyPod Pro Max
12. Zeiss Lens Wipes
13. Goal Zero USB Charger
14. Coast LED Flashlight
15. Spare Arca Swiss Plate
16. Lens Baby Composer II with Edge 50 Optics (Canon Lens with Metabones Adapter)
17. Sony 50mm f/1.8 Lens
18. Rokinon 14mm Lens
19. Sony IR Remote
20. Tamrac Rain Bag Cover
21. f.64 Academy Stickers
22. f.64 Academy Business Cards
23. Spare Sony Batteries
24. Bean Bag for ultra low angle shots.