The title says a lot about this image if you dissect the hyphen accordingly.  While I did love this location for shooting HDR images, I went home with about 9 ticks on my legs and found 2 in my hair while driving home.  I would say that I am never going back there again when this place is so over grown because of the tick problem, however, I would be lying!  I went with my friend Keith Moyer (great HDR photographer), I wonder how he faired with the ticks?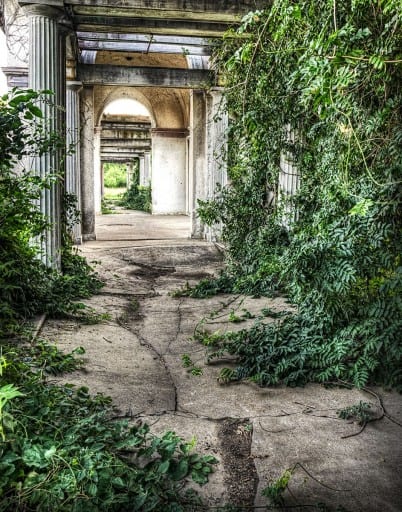 This place is called Longview, near Lee's Summit, Missouri.  It offers some very beautiful photo opportunities as it is nestled oh so close to a nearby lake.  In the past I believe this structure acted as a type of filter that the lake water would pas through and fill up two smaller pools on the other side for the owners to enjoy.
Photo Tip:
Live on the edge a bit with your photography!  Don't simply look at an overgrown location and say, "No way am I going in there, ticks, snakes… yuck" sure there might be ticks and snakes there, but look at what you could be missing out on!  This photo made it to my top shots of all time, imagine if I would never have ventured through there.  Truth is, I had some push, I traversed the terrain with my friend Keith who has shot here many times.  However, neither of us looked at this location and said No Way!