By now you have probably figured out that just about anyone can take a great photograph, but it takes a great deal of post processing to make an amazing HDR photograph.  While that post processing is extremely important, it takes a large amount of time to get your HDR images just right.  You can sit behind Photoshop for hours tweaking your images to perfection, or you can drastically reduce that hour to mere seconds by hopping on over to Topaz Labs and picking up Topaz Adjust 5.  Topaz released Adjust 5 yesterday (November 15th 2011), this upgrade is well worth the price at only $49.99!  I used Topaz Adjust 4 in the past dabbling with the presets and using it simply as a way to refine an HDR image, but rarely did I take it seriously as being a suitable post processing engine.  However, the Topaz Adjust 5 upgrade is simply flawless!
The Interface: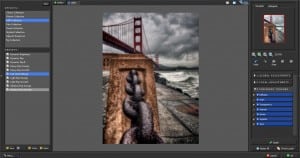 The Good:
A much smoother and faster interface than Adjust 4.
The categorization of presets makes it very simple for me to find a great starting point for the image I am working on.  Speaking of presets, the Dynamic Pop II preset is a grand slam in the World Series of HDR!
The integration of more post processing options is brilliant!  Vignettes, Transparency, even Toning adjustments have been built right into the interface.  The Finishing Touches menu is a life saver during HDR post processing.  This menu will make anyone a well-oiled efficient post processing machine.
An extremely clean processing plug-in.  I don't know what formula Topaz used in their Lab, but they definitely mixed the right chemicals this time.  Topaz Adjust 4 had a tendency to be very noisy, Adjust 5 is immensely clean and relatively noise free compared to its predecessor.
They have even included a Local Adjustments menu that allows you to dodge, burn, smooth and control these effects on a local level built right into the interface.  If one area got too dark during your global adjustment, simply scroll on down to the local adjustment and dodge it out.  Excellent touch!
The immaculate results just keep coming.
I only touched on some of my favorite highlights, follow this link to see many more features Adjust  5 has to offer.
The Bad:
There are only 24 hours in the day to experiment with it.
The Bottom Line:
Topaz has come a long way with the Adjust product line in their Bundle, but never did I expect to see such amazing progress from one upgrade to the next.  This is the jump from Windows Vista to Windows 7; this is the difference between Chef Boyardee and Macaroni Grill.  I have to give Topaz a round of applause!  It is hard to believe they are only charging $49.99 for such a killer product.  All this time I have been creating time consuming Photoshop Actions for effects that Adjust 5 produces in seconds.  Would I recommend this to a friend?  I would recommend it to his entire family!