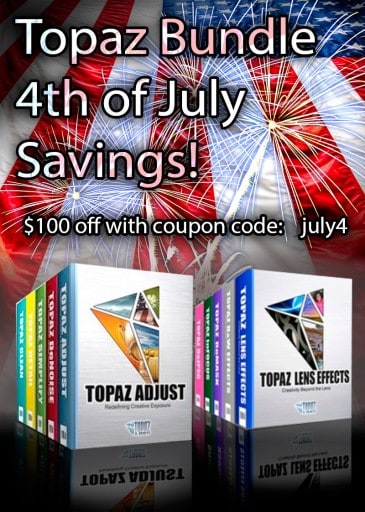 Topaz Labs is offering a splendid discount on the entire Topaz Labs bundle.  $100 dollars off with the coupon code july4.  That's a 33% discount!
This sale will be running from June 24th – July 7th!  The Topaz Bundle normally goes for $299.99.  With this discount you will be getting the Bundle for $199.99.  The great thing about Topaz products, when they upgrade them you get the updates for free!  Not like the frustration everyone is having with Photoshop CC these days 🙂
I use several Topaz plug-ins, from Topaz Adjust to Detail and Black and White Effects 2.  There is a place in anyone's workflow for these plug-ins.
 Take a look at some past tutorials I have done for Topaz products:
Use coupon code july4 @ Topaz Labs to save $100 instantly!
[important] The Topaz Bundle does not include Clarity, photoFXlab or Star Effects![/important]