PSWORLD 2014 Here I Come!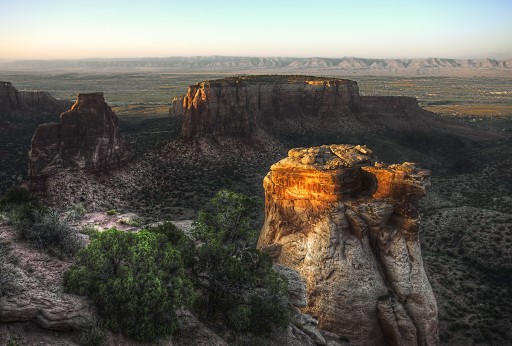 I am on my way to Photoshop World in Vegas.  I decided to drive…. from Kansas City… I know, crazy right?
Well, I have a ton of stuff to bring with me this time, 2 – 8'x3′ banners, 2 – 5′ vertical banners, 8500 flyers (HDR Insider and Zone-Edit) a 39″ LED TV, Laptop, Suitcase, I could go on, but you get the picture!  I am stoked to be a vendor on the Expo Floor this year and am looking forward to a great time!
So, back to the trip.  I woke up crazy early yesterday morning to get on the road.  My plan was to wake up at 4 and hit the road by 5 AM to make it to Grand Junction, Colorado by 6PM to catch the sunset over the CO National Monument.  Well, William (our 7 month old) woke up at 3 and I just could not get back to sleep after that with Photoshop World on my mind.
So I woke up and hit the road at 415 AM. I made it to Grand Junction in just about 12 hours and while I thought it was 430 when I arrived, it was really 330, I forgot about the time difference.  However, it gave me tons of time to check out the Colorado National Monument.  At only 20 some miles around, it takes about 3 hours to drive as a Photographer.  I think I may have whip lash from looking left to right, my head was on a permanent swivel!
If you ever drive through Grand Junction, you have to stop at the monument!  Such a site to see!  I am sure I will be processing these photos for months to come!
Stay tuned, I will be updating the blog throughout the week with the PS WORLD 14 play by play!