A Zero Distortion Wide Angle Lens… Is it too good to be true?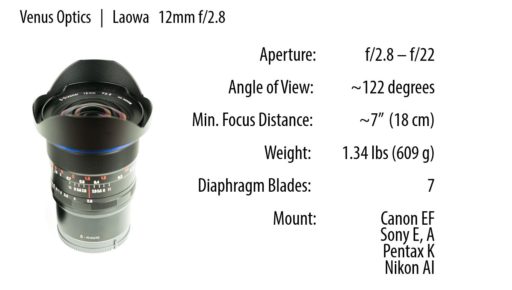 When I first heard about the Laowa 12mm Wide Angle lens on Kickstarter last year, I had to check it out for myself.  The company, Venus Optics, claimed a near zero distortion wide angle lens.  If you know enough about Wide Angle Lenses (I have a small army of them) you know that sounds entirely too good to be true, especially from a lesser known company.
I was fortunate enough to snag a Venus Optics 12mm lens when their campaign first hit Kickstarter.   I gave them my wallet about 45 seconds into their campaign… I was that excited!  But boy am I glad I did.
While the Laowa 12mm lens has not exactly hit the streets yet, a simple Google search will turn up some pretty good review results.  So to spare you all of the technical stuff that is already all over the web, I figured I would give you my practical review of the lens along with some sample images and answer the most pressing questions.  You can watch the full review or read the answers below.
Is 12mm REALLY necessary?
To some it may not be.  By their nature, wide angles lenses push objects in the distance even farther into the distance.  The wider the lens the farther back the objects are pushed.  This happens because the lens is designed to get as much as it can into the frame.  Filling the frame with that much stuff comes with a cost.  However, the 12mm Venus Optics Lens seems to handle the scene rather well due to the zero distortion qualities of the lens.
How is it with Vignetting?
As with all Wide Angle lenses, vignetting at lower Apertures is an issue.  With the Laowa 12mm lens, there is vignetting at f/2.8 and f/4 but is practically unseen by f/5.6.  The vignetting is very noticeable at f/2.8 but gets drastically better by f/4.
How does it handle the corners?
Any exposure from a wide angle lens is going to pose a threat to the sharpness of the edges of your photo.  Typically corner softness is worst at low apertures.  The corner sharpness of the  Laowa 12mm is pretty soft at low apertures and doesn't really clear up until f/8 or f/11.  That does not mean the image is not usable, though.  I found it to be exponentially better than the Rokinon 14mm and just slightly over the par of the Sony 16-35mm at 16mm.
Is it sharp in the center?
Throughout most of my testing, I found the Laowa 12mm lens to be very sharp in the center from f/4 through f/16.  At f/2.8 and f/22, the center sharpness was not horrible, but it is definitely better between f/4 and f/16 with f/8 and f/11 being the most impressive apertures.
Is it really Zero Distortion?
Yes, well damn near close to it!  I was very skeptical until I took it out with the Rokinon 14mm and the Sony 16-35mm.  While many images can be fixed with lens profile correction, the Laowa 12mm does not need it.  I was shocked by how well it maintained the integrity of straight lines throughout the entire lens from the corners to the center and all over.  The Rokinon 14mm can't hold a candle to it, and the Sony 16-35mm is alright, but still pales in comparison.
Does it Auto Focus?
No.  It is not chipped for auto-focus.  It is an all manual lens, but it focuses smooth like butter.
How is the build quality?
Solid, like a rock solid!  It is all metal with etched apertures and focal distances.  Even the lens hood is metal.  It feels heavy duty and built for longevity.
Should I trust the company?
While Venus Optics is a lesser known company in the industry, it is a trustworthy one.  I received my first copy of the Laowa 12mm lens and immediately took it for a spin in Kansas City.  I got to my first destination and found I couldn't focus to infinity and the photo never really got in focus at all.  I fumbled with it for a while but just couldn't get it to focus on distant objects.  I ran it through some extensive testing in my studio and found the photos soft, and nothing was really in focus.
I immediately emailed Venus Optics with test images, RAW files, and my findings.  Within 24 hours someone emailed me back explaining that it may have been a bad copy of the lens.  They informed me of how to ship it back to Hong Kong, reimbursed my shipping charges, and sent me a new copy.  The whole process took some time, but they had a representative routinely emailing me about the status of the new lens and the refund for the shipping.
Due to some of the companies I have dealt with lately, I was shocked to receive such timely and helpful customer service.  To make a long story short, yes they are very trustworthy and well on their way to a solid reputation in the industry.
What are your bottom line thoughts, Blake?
I think it is incredible.  12mm is not for everyone, definitely more for the wide angle landscape or architecture junky, but the lens is solid.  It is built like a tank, tack sharp at the apertures I commonly use and will hold a permanent place in my camera bag.
You can't expect a wide angle lens to be flawless at lower apertures, it will vignette and be soft in the corners, but the likelihood of shooting my landscape work at f/2.8 is next to nothing.  If I need to use it for Astrophotography, I can always put it at f/4 and raise the ISO and rely on the sensor of the Sony a7RII.
I was very skeptical about the "Zero Distortion" claim, but wow!  If you watch the video review, all of the images were straight out of the camera.  It really is close to zero distortion if not right there at zero.  It is pretty incredible for a super wide angle lens.  I am impressed!