See your tones with a color-coded 5 Tone Heat Map
The 5 Tone Heat Map is a concept I have been working on for quite a while.  I first started working with the idea in November of 2017 while showing the f.64 Elite community how to edit a Milky Way photo.
What I realized about most Milky Way photos is that they are like Black and White images that lack the stars of the show resulting in medium grays.  The Milky Way is the brightest portion of the image, so our eyes tend to get used to it thinking it is a highlight when in reality the Milky Way is more like a mid-tone or lower on the luminance value chart.
However, it is challenging to get people to "see" that.  We see it obviously, but rarely do we interpret it in a way that will help us make the photo better.  For years I have been teaching people to see and understand their tones to make better pictures.  It started with the Contrast Checker, and while that helps, it is not the best option to see the tones in a way that we understand why they aren't working together very well.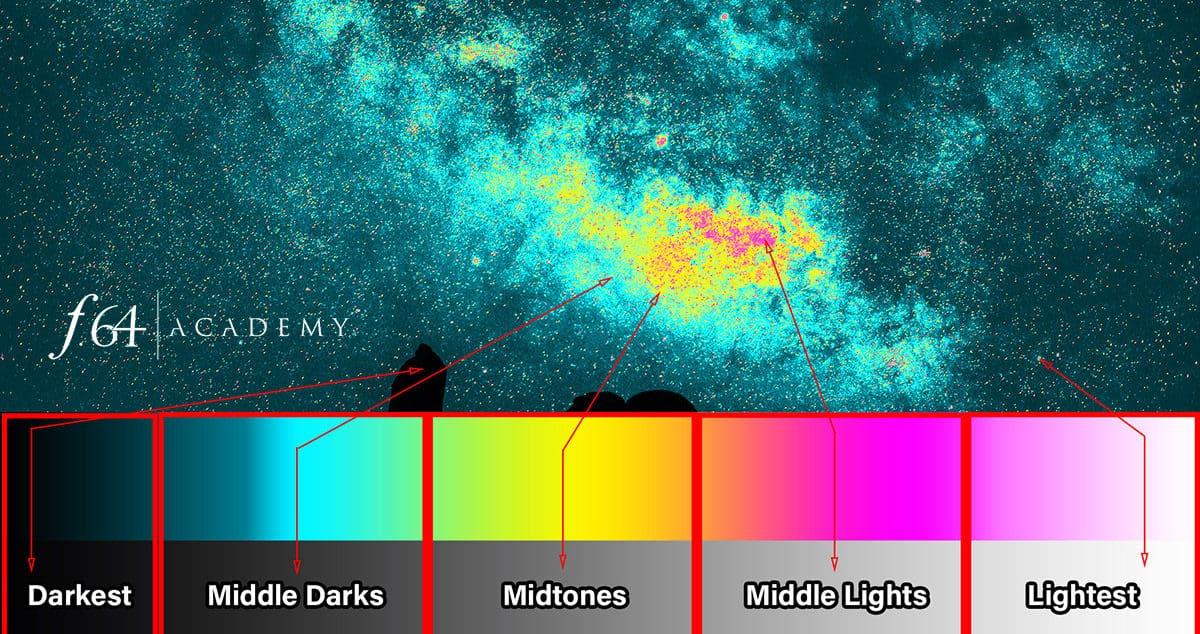 The 5 Tone Heat Map resulted from the need to visually see our tones to interpret them better.  What the Heat Map does is analyzes the tones in your image and applies a map to the tones.  The colors are bold for a reason.  With these bright colors, the tones scream at you.  They let you know exactly where they are with a color-coded map.
While this may seem like an obvious "ah-ha" moment with the Gradient Map, this is a breakthrough for post-processing.  With the Heat Map above a Curves layer, you can see the "heat" changing as the curve moves.  This lets you see in a color-coded visual display just how much of each tone is visible in the image. Not only that, but you can also use the colors to make an exact Color Range selection.
Since this concept is relatively new and foreign to many users.  I have developed a video for you as well as an Action package to help you use it.