Photoshop Hot Key Hacks!
Have you ever made a funny shape with your fingers, like an elephant or a dog, and plopped them on the key board while in Photoshop to see what kind of effect it has.  Some Hot Keys make you feel like your hand is turning into a claw-like object of mass destruction.  For instance, CTRL+SHIFT+ALT+E, to make a layer stamp.  With that one you almost need 2 hands!!!
I was playing around in Photoshop the other day wondering, "What will happen if I do this, CTRL+SHIFT+ALT+M" and boom, a genie appeared that granted me three wishes!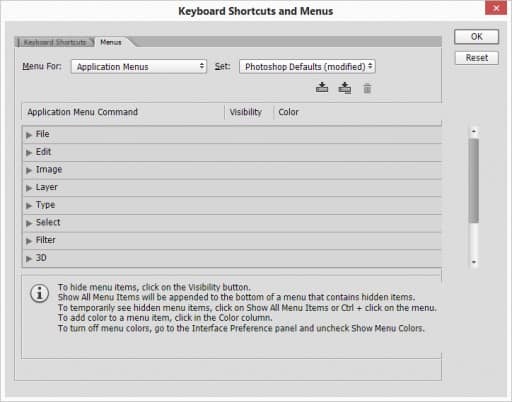 Well, okay, the genie didn't quite happen, but a new window popped up that scared the daylights out of me.  I didn't want to mess with it because it looked "official".  However, the more I looked at it the more I realized I had "cracked" the hot key code.  I hacked Photoshop…. not really… but I felt like it!
What it did was bring me into a window that showed me every single Photoshop Hot Key and allowed me to modify them if I so chose!  How cool is that!  It even allowed me to "Summarize" every hot key in Photoshop.  It does it in a .htm file so I did you the favor of copying it into this post (below the tutorial).  I thinned out all the junk that didn't have a hot key.
Here is the video tutorial that goes over the Keyboard Shortcuts and Menus window.
Adobe
®

Photoshop

®

CC 2014 Keyboard Shortcuts
Application Menus

Command
Shortcut
File
New…
Ctrl+N
Open…
Ctrl+O
Browse in Bridge…
Alt+Ctrl+O
Shift+Ctrl+O
Open As…
Alt+Shift+Ctrl+O
Close
Ctrl+W
Close All
Alt+Ctrl+W
Close and Go to Bridge…
Shift+Ctrl+W
Save
Ctrl+S
Save As…
Shift+Ctrl+S
Alt+Ctrl+S
Save for Web…
Alt+Shift+Ctrl+S
Revert
F12
File Info…
Alt+Shift+Ctrl+I
Print…
Ctrl+P
Print One Copy
Alt+Shift+Ctrl+P
Exit
Ctrl+Q
Edit
Undo/Redo
Ctrl+Z
Step Forward
Shift+Ctrl+Z
Step Backward
Alt+Ctrl+Z
Fade…
Shift+Ctrl+F
Cut
Ctrl+X
F2
Copy
Ctrl+C
F3
Copy Merged
Shift+Ctrl+C
Paste
Ctrl+V
F4
Paste Special>
Paste in Place
Shift+Ctrl+V
Paste Into
Alt+Shift+Ctrl+V
Fill…
Shift+F5
Content-Aware Scale
Alt+Shift+Ctrl+C
Free Transform
Ctrl+T
Transform>
Again
Shift+Ctrl+T
Color Settings…
Shift+Ctrl+K
Keyboard Shortcuts…
Alt+Shift+Ctrl+K
Menus…
Alt+Shift+Ctrl+M
General…
Ctrl+K
Image
Adjustments>
Brightness/Contrast…
Levels…
Ctrl+L
Curves…
Ctrl+M
Hue/Saturation…
Ctrl+U
Color Balance…
Ctrl+B
Black & White…
Alt+Shift+Ctrl+B
Invert
Ctrl+I
Desaturate
Shift+Ctrl+U
Auto Tone
Shift+Ctrl+L
Auto Contrast
Alt+Shift+Ctrl+L
Auto Color
Shift+Ctrl+B
Image Size…
Alt+Ctrl+I
Canvas Size…
Alt+Ctrl+C
Layer
New>
Layer…
Shift+Ctrl+N
Layer Via Copy
Ctrl+J
Layer Via Cut
Shift+Ctrl+J
Vector Mask>
Create/Release Clipping Mask
Alt+Ctrl+G
Group Layers
Ctrl+G
Ungroup Layers
Shift+Ctrl+G
Arrange>
Bring to Front
Shift+Ctrl+]
Bring Forward
Ctrl+]
Send Backward
Ctrl+[
Send to Back
Shift+Ctrl+[
Merge Layers
Ctrl+E
Merge Visible
Shift+Ctrl+E
Select
All
Ctrl+A
Deselect
Ctrl+D
Reselect
Shift+Ctrl+D
Inverse
Shift+Ctrl+I
Shift+F7
All Layers
Alt+Ctrl+A
Find Layers
Alt+Shift+Ctrl+F
Refine Mask…
Alt+Ctrl+R
Modify>
Feather…
Shift+F6
Filter
Last Filter
Ctrl+F
Adaptive Wide Angle…
Alt+Shift+Ctrl+A
Camera Raw Filter…
Shift+Ctrl+A
Lens Correction…
Shift+Ctrl+R
Liquify…
Shift+Ctrl+X
Vanishing Point…
Alt+Ctrl+V
View
Proof Colors
Ctrl+Y
Gamut Warning
Shift+Ctrl+Y
Zoom In
Ctrl++
Ctrl+=
Zoom Out
Ctrl+-
Fit on Screen
Ctrl+0
100%
Ctrl+1
Alt+Ctrl+0
Extras
Ctrl+H
Show>
Target Path
Shift+Ctrl+H
Grid
Ctrl+'
Guides
Ctrl+;
Rulers
Ctrl+R
Snap
Shift+Ctrl+;
Lock Guides
Alt+Ctrl+;
Window
Actions
Alt+F9
F9
Brush
F5
Color
F6
Info
F8
Layers
F7
Help
Photoshop Help
F1

Panel Menus

Command
Shortcut
3D
Render
Alt+Shift+Ctrl+R
Export 3D Layer…
Close
Close Tab Group
History
Step Forward
Shift+Ctrl+Z
Step Backward
Alt+Ctrl+Z
Layers
New Layer…
Shift+Ctrl+N
Create/Release Clipping Mask
Alt+Ctrl+G
Merge Layers
Ctrl+E
Merge Visible
Shift+Ctrl+E
Tools

Tools
Shortcut
Move Tool
V
Rectangular Marquee Tool
M
Elliptical Marquee Tool
M
Lasso Tool
L
Polygonal Lasso Tool
L
Magnetic Lasso Tool
L
Quick Selection Tool
W
Magic Wand Tool
W
Eyedropper Tool
I
3D Material Eyedropper Tool
I
Color Sampler Tool
I
Ruler Tool
I
Note Tool
I
Count Tool
I
Crop Tool
C
Perspective Crop Tool
C
Slice Tool
C
Slice Select Tool
C
Spot Healing Brush Tool
J
Healing Brush Tool
J
Patch Tool
J
Content-Aware Move Tool
J
Red Eye Tool
J
Brush Tool
B
Pencil Tool
B
Color Replacement Tool
B
Mixer Brush Tool
B
Clone Stamp Tool
S
Pattern Stamp Tool
S
History Brush Tool
Y
Art History Brush Tool
Y
Eraser Tool
E
Background Eraser Tool
E
Magic Eraser Tool
E
Gradient Tool
G
Paint Bucket Tool
G
3D Material Drop Tool
G
Dodge Tool
O
Burn Tool
O
Sponge Tool
O
Pen Tool
P
Freeform Pen Tool
P
Horizontal Type Tool
T
Vertical Type Tool
T
Horizontal Type Mask Tool
T
Vertical Type Mask Tool
T
Path Selection Tool
A
Direct Selection Tool
A
Rectangle Tool
U
Rounded Rectangle Tool
U
Ellipse Tool
U
Polygon Tool
U
Line Tool
U
Custom Shape Tool
U
Hand Tool
H
Rotate View Tool
R
Zoom Tool
Z
Default Foreground/Background Colors
D
Switch Foreground/Background Colors
X
Toggle Standard/Quick Mask Modes
Q
Toggle Screen Modes
F
Toggle Preserve Transparency
/
Decrease Brush Size
[
Increase Brush Size
]
Decrease Brush Hardness
{
Increase Brush Hardness
}
Previous Brush
,
Next Brush
.
First Brush
<
Last Brush
>